Avast Cleanup standalone: Getting Started
How to set up and use Avast Cleanup standalone
This article describes the features and configurations of Avast Cleanup when installed as a standalone application. For information about Avast Cleanup as an add-on in Avast Antivirus, please read the following article:
To begin using Avast Cleanup standalone, click Scan my PC to prompt an initial scan. Then, visit the sections below which correspond to the sections in the Cleanup standalone interface: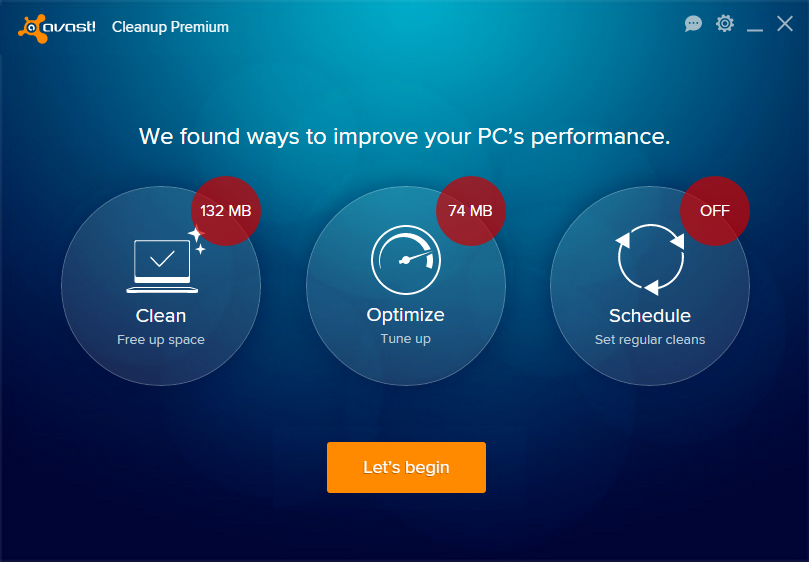 Let's begin
Let's begin is a quick and easy way to navigate to each section of the Avast Cleanup application. It scans your PC, and offers you cleaning, optimization, and scheduling options in sequence. Simply click Let's begin in the user interface, and follow the on-screen instructions. Alternatively, you can visit each section individually by clicking the Clean, Optimize, and Schedule icons in the interface.
Clean
Clean clears disk space and helps protect your privacy by removing unnecessary or potentially harmful items from your system. To access Cleanup tasks:
Click Clean in the Cleanup user interface to prompt an initial scan.

Select the tasks you want Cleanup to perform.

Ticking the following boxes removes these components from your system:

Junk files are unnecessary files (such as driver packages, temporary files, and log files) that may be taking up space and slowing down your computer. Please note that removing junk files is a premium feature and requires a paid license.
Browser cache is a temporary storage location on your computer that holds downloaded files (for example, picture files stored from websites).
Bad add-ons and bad search providers include browser extensions which may negatively affect your system and potentially dangerous search engines. Cleanup identifies and offers to replace these components. Click See more to manage add-ons and search engines.
Tracking cookies are small data files that record information about which websites you have visited.
Other cookies refers to small data files stored on your hard drive from web servers.
Download and browsing history refers to the history of visited websites and downloaded files from your browser (this task only removes the list of files and does not delete any files saved to your computer).

Click Clean.
A success screen appears. Click OK to return to the main Cleanup interface.
Optimize
Optimize improves your system's performance and enhances your security. To access optimization tasks:
Click Optimize in the Cleanup user interface to prompt an initial scan.
Select which optimization tasks you would like Cleanup to perform by ticking the appropriate boxes, then click Optimize.

Risky apps disables potentially harmful apps from starting on your computer. Please note that this is a premium feature and requires a paid license to use.
System settings optimization allows changes to your system settings to improve your PC's performance.
Registry Optimizer clears your system's registry. Please note that this is a premium feature and requires a paid license to use.
Change startup and other preferences for a faster boot-time allows you to manually disable certain apps from running when your computer boots up which reduces the time it takes for your PC to start. Click Set to enable or disable apps and services. Please note that this is a premium feature and requires a paid license to use.

Registry Optimizer requires you to restart your computer.

If prompted, click Continue to restart your computer.
Schedule
Schedule is a premium feature and requires a paid license to use.
Schedule allows Cleanup to remove junk files, disable potentially dangerous apps, and tweak system settings automatically at a time set by you. To access scheduling tasks:
Click Schedule in the Cleanup user interface.
Tick the appropriate boxes according to your preferences:

Real-time monitoring checks for residual files (such as files leftover from uninstallation processes) and offers to remove them.
Scheduled cleaning enables you to set automatic cleaning tasks for predefined times.

If you select Scheduled cleaning, click the arrow next to the drop-down menu to specify Once, Weekly, or Monthly cleans... ...and enter the time and day you would like the clean to take place. Tick the below boxes to specify other conditions:

Do not scan if your computer is running in battery mode ignores schedule settings if your computer is not connected to a power source.
If in sleep mode, wake up the system to start the scan wakes up your system to perform the scheduled clean.
Shut down the system after the scan finishes shuts down your system when the scheduled clean is complete.

Click Set to save Schedule settings.
Settings
To manage your Avast Cleanup settings:
Click the Settings icon in the Cleanup interface.
The following options are available in Settings:
Click Save Settings to confirm changes.
Microsoft Windows 10 Home / Pro / Enterprise / Education
Microsoft Windows 8.1 / Pro /Enterprise
Microsoft Windows 8 / Pro / Enterprise
Microsoft Windows 7 Home Basic / Home Premium / Professional / Enterprise / Ultimate
Microsoft Windows Vista Home Basic / Home Premium / Business / Enterprise / Ultimate
Microsoft Windows XP Home / Professional / Media Center Edition