Avast 2016: Adjusting settings for virus scans
How to adjust virus scan settings
Scanning your computer for viruses is one of the main features of Avast Antivirus. The program gives you the option to adjust the scan settings depending on your needs. Generally, it is not recommended to change the scan settings for pre-defined (default) scans. Instead, we recommend to create a new Custom Scan and define all the parameters.
If you want to adjust the settings for any type of virus scan, go to
Scan → Scan for viruses, select a particular scan from the drop-down menu, and click Scan settings. The settings are similar for almost every type of scan and they are organized into the following tabs:
The only exception is the Boot-time scan which has different options. For more information please read the following article:
Scan
Define the scan name and general parameters.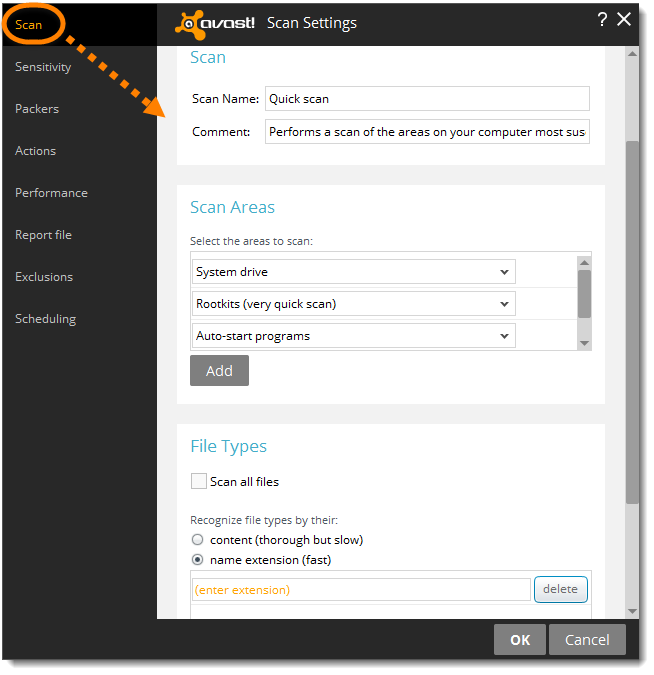 Scan areas
Select or delete areas to scan by opening the drop-down menu. To remove an area select it in the list and click delete.
File types
Choose File types to be scanned.
Scan all files - if checked, your scan is more thorough but slower.
You can also specify that potentially suspicious files are detected based on either:
Content - Avast examines each file to determine file type. This option is safer but the scan takes longer.
Name extension - Only files with extensions such as .exe, .com, .bat are scanned. To add other file extensions click select additional areas, type the file extension in the box and click OK. To remove a file extension select it in the list and click delete.
Sensitivity
Heuristics analysis allows Avast to detect unknown viruses and malware by analyzing code in the file.
Heuristics sensitivity is adjustable by clicking on the orange bars. With higher sensitivity there is a greater chance of a false positive detection.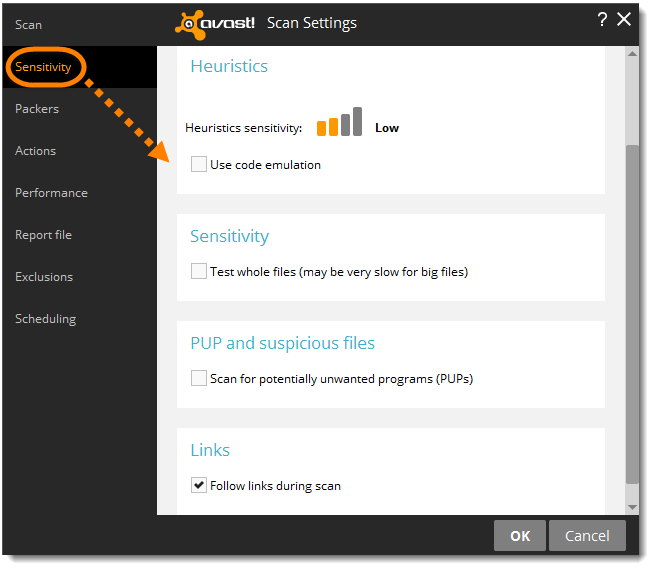 Options
Use code emulation - Run detected suspicious code in a virtual environment, where it cannot cause damage to your computer, to determine how it behaves. If malicious behavior is detected it is reported as a virus.
Test whole files (may be very slow for big files) - Scanned files are tested fully, not just those parts normally affected by viruses. If this box is checked the scan is slower but more thorough.
Scan for potentially unwanted programs (PUPs) - PUPs are programs stealthily downloaded along with other programs, and usually perform unwanted activity.
Follow links during scan - If shortcuts or links to any other files are found, the targeted files are also scanned for potentially harmful content.
Packers
Specify which types of archive files are scanned - such as .zip, .rar, or other compressed files.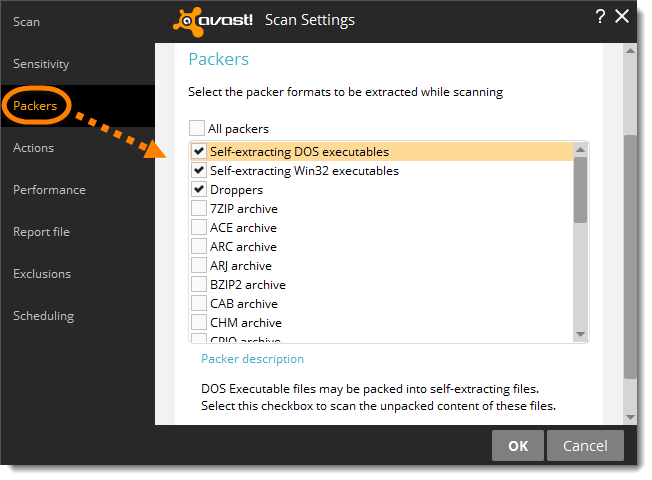 By default, self-extracted archives, droppers, and NTFS streams are checked as potentially suspicious. It is not necessary to scan other archive types; without extracting they cannot harm your computer. If the box All packers is checked all archive files are scanned, but this option significantly increases scanning time.
Actions
By default, Avast reports any suspicious files at the end of the scan and you can choose what to do with each one. Alternatively, you can specify an action to apply automatically during the scan when a threat is detected.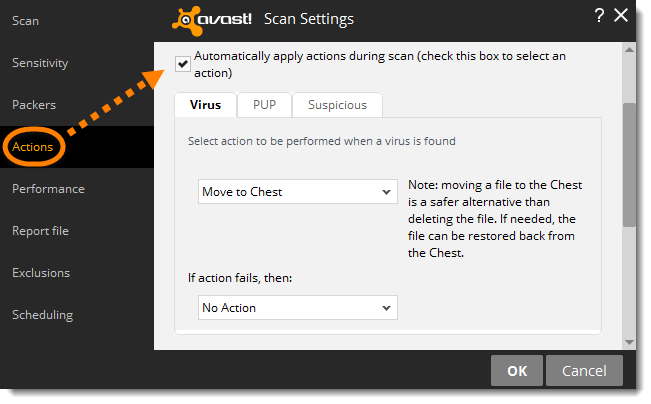 To view available options, check the box Automatically apply actions during scan. Click the tabs to choose actions from the drop-down menu for each type of threat.
Fix automatically - Run a sequence of actions (repair file; if not possible, then move to Virus Chest; if not possible, then delete).
Move to Chest - Send the threat to the Virus Chest where it cannot harm your system.
Repair - Remove only malicious code attached to an otherwise safe file; this is not possible for files which are entirely malware.
Ask - Avast asks what you want to do with each detected threat.
Delete - Permanently remove the file from your computer.
No action - No action is taken during the scan; the threat is listed in your scan results and you can decide what to do later.
If any action is selected, you can specify an alternate action to apply if the first action fails.
Options
Specify rules for when a threat is detected inside an archive (such as .zip, .rar, and other compressed files):
If necessary, perform the selected action at the next system restart (default) - When a file is in use, Avast carries out the action when the computer is restarted.
Try to remove only the packed file from the archive. If it fails, do nothing (default) - Avast tries to remove the threat but does not delete the entire archive.
Try to remove only the packed file. If it fails, remove the whole containing archive - When it is not possible to remove the threat, Avast deletes the entire archive.
Always remove the whole archive - Avast deletes the entire archive.
Performance
Adjust the priority of the scan when other applications are running on your system.
Scan priority is adjustable by clicking on the orange bars. Higher priority means the scan uses more system resources but takes less time when other applications are running.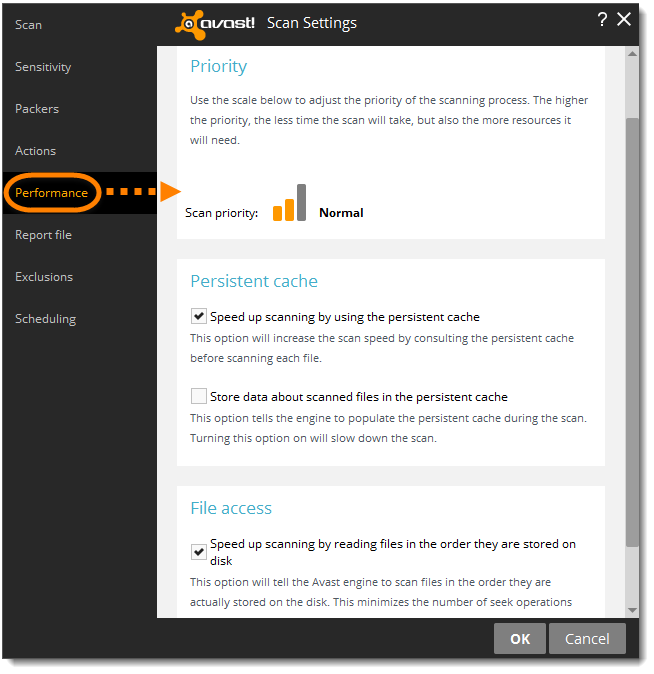 Persistent cache
Persistent cache refers to storing information about files already verified as clean to speed up later scans.
Speed up scanning by using the persistent cache - Files already verified as clean are not scanned again.
Store data about scanned files in the persistent cache - New information about verified clean files is added to the persistent cache during the scan. This can slow down the current scan, but speeds up future scans when the option above is also enabled.
File Access
Accessing files in the same order as they are physicaly stored on disk usually speeds up the entire scan.
Speed up scanning by reading files in the order they are stored on disk - If enabled, each scan follows the same order as that of the physical data stored on disk instead of following the file index order in the Master File Table. This can effectively speed up scanning by reducing the number of seek operations on NTFS file system volumes.
Report file
Create a report of the scan results by checking the box next to Generate report file.
Specify the file name and format. If the file exists select settings for later reports:
Append - The results of the new scan are added to the end of the previous report.
Overwrite - Each scan creates a new report and replaces any previous report.
Reported items
Specify what items to report:
Infected items - Files where a virus or malware was detected.
Hard errors - The program detects something unexpected and requires further investigation.
Soft errors - Minor issues, for example, files that could not be scanned because they were in use.
OK items - Scanned files where nothing suspicious was detected. This option produces a very long report.
Skipped items - Files not scanned because of scan settings.
Location
By default the report is stored in the following location:
For Windows 10, Windows 8.1, Windows 7 or Windows Vista
C:\ProgramData\Avast Software\Avast\report
For Windows XP
C:\Documents and Settings\All Users\Application Data\Avast Software\Avast\report
For more information about Creating scan reports please read the following article:
Exclusions
Enter or modify any locations to exclude from the scan. Exclusions specified here only apply to the selected scan, and do not apply to any other manual or scheduled scans, or to the real-time shields.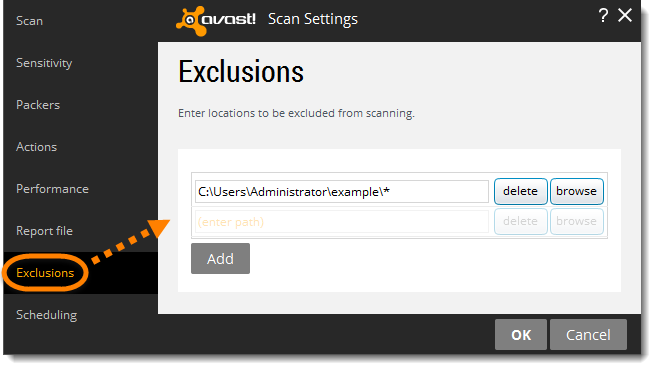 To exclude a location or file, you can enter the file path to be excluded, or Browse for the location and click OK.
You can use wildcards ? or *:
To exclude a folder and its sub-folders you must add \* to the end of the folder name e.g. C:\example\*
To exclude all folders labeled "example" on any of your hard drives, enter ?:/example
Scheduling
You can set a scan to run once at a specified time and date, or schedule it to run regularly - Daily, Weekly or Monthly.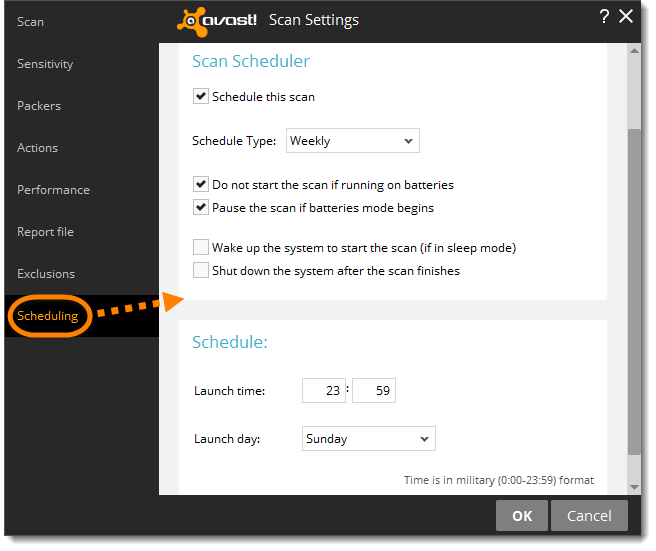 For the scheduled scan to run, the computer must be turned on.
Launch time is defined in 24-hour format (for example, 3:00pm must be entered as 15:00).
Avast Premier 2016
Avast Internet Security 2016
Avast Pro Antivirus 2016
Avast Free Antivirus 2016
Microsoft Windows 10 Home / Pro / Enterprise / Education
Microsoft Windows 8.1 / Pro / Enterprise
Microsoft Windows 8 / Pro / Enterprise
Microsoft Windows 7 Home Basic / Home Premium / Professional / Enterprise / Ultimate
Microsoft Windows Vista Home Basic / Home Premium / Business / Enterprise / Ultimate
Microsoft Windows XP Home / Professional / Media Center Edition