Avast Cleanup: Using Cleanup
How to use Cleanup in Avast 2016
Avast Cleanup is an optimization tool which replaces GrimeFighter. Cleanup optimizes your system by finding and removing obsolete files and disabling unnecessary applications and settings.
When Cleanup identifies performance issues, a report shows what can be done to optimize your system. You can also schedule automatic optimization scans, scan your registry, and view your overall system status. An internet connection is needed to use Cleanup.
Run a Cleanup Scan
To optimize the performance of your PC, run a Cleanup scan. Follow these steps:
In the Avast user interface, select Scan, then select Scan for performance issues. Cleanup analyzes your system and specifies issues found in the Cleanup window.
Click Details to see more specific information about the Junk files, Unnecessary applications, and System settings that are affecting your system's performance. Click the arrows next to each category to show (or hide) the files and programs identified by Cleanup for removal.
Uncheck any items that you want to keep, then click Optimize my PC to remove the unnecessary files, applications, and settings from your system.
The Cleanup results notifies you when issues are successfully resolved.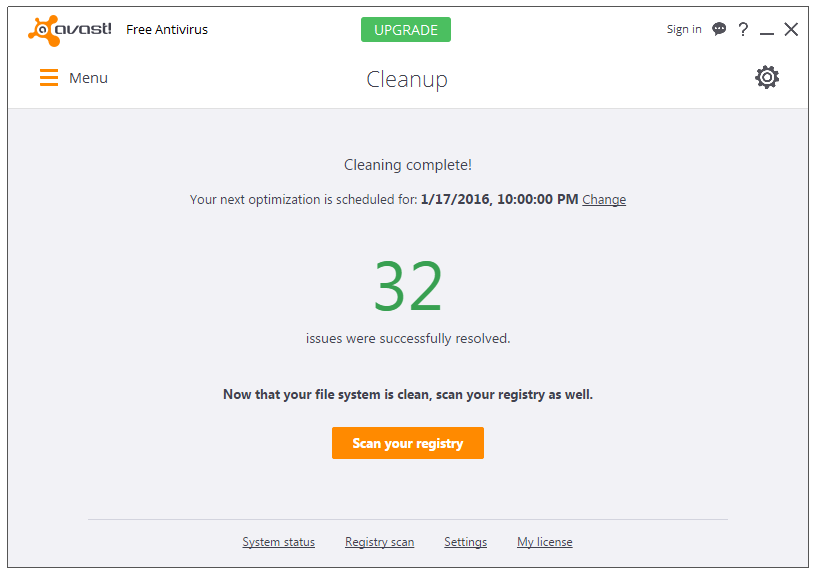 Schedule a Cleanup Scan
Schedule an automated scan to run Cleanup regularly and keep your computer optimized. Follow these steps:
In the Cleanup window, select Schedule to open the Scheduling window.
Check the Schedule clean box, and select how often you want the scan to run. Select the optional conditions that you want to apply to your automated scans.
Specify when you want the scan to launch, then click OK.
Your automated scan is scheduled. You can view or change a scheduled scan by following the same steps. After manually running a Cleanup scan, you can also see the date and time of your next scheduled scan in the Cleanup results window.
Scan your Registry
Scan your registry to further speed up your PC. Follow these steps:
In the Cleanup window, select Registry scan. Cleanup analyzes your registry for potential issues, and indicates what can be done to improve the performance of your PC in the Registry scan window. Click the Details arrow to show (or hide) more information about your registry.
Uncheck any items that you want to keep. Click Optimize my Registry to free up your registry space.
Click Continue to start the optimization and restart your computer.
Click Restart Now.
When your system restarts your registry is optimized for improved PC performance.
View your System Status
Cleanup enables you to view the overall status of your system at-a-glance, so that you can identify problem areas and take action if necessary.
In the Cleanup window, select System status.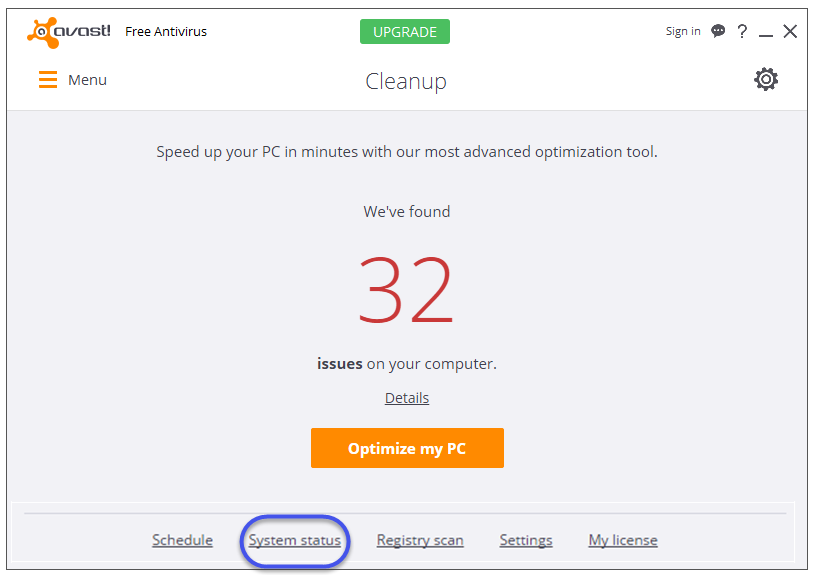 The System status window opens. Here you can view current information about your system.
Customize Cleanup Settings
You can customize certain Cleanup settings. Follow these steps:
In the Cleanup window, click More, then select Settings.
Specify the number of issues to be found before Avast notifies you, and how frequently you want to receive notifications, then click OK.
Your Cleanup settings are customized. You can change these settings at any time.
Avast Cleanup

Avast Premier 2016
Avast Internet Security 2016
Avast Pro Antivirus 2016
Avast Free Antivirus 2016
Microsoft Windows 10 Home / Pro / Enterprise / Education
Microsoft Windows 8.1 / Pro / Enterprise
Microsoft Windows 8 / Pro / Enterprise
Microsoft Windows 7 Home Basic / Home Premium / Professional / Enterprise / Ultimate
Microsoft Windows Vista Home Basic / Home Premium / Business / Enterprise / Ultimate
Microsoft Windows XP Home / Professional / Media Center Edition